Essay Contest
Kiwanis of BENV is proud to announce the theme of our 2022 Essay Contest: KINDNESS! Applications are being accepted until May 15, and the winners will be announced on June 1. See the flyer below for the full prompt, and scroll further down for the Entry Form (available both digitally to submit directly online and downloadable/printable if you would prefer to submit physically).
Prizes will be awarded according to age group. One $500.00 scholarship will be awarded to a graduating senior. This contest is open to all children living with the Keystone Central School District. Artistic interpretations are encouraged for children of younger ages in place of a proper essay, and also encouraged as a supplement to the essays for older children if applicable.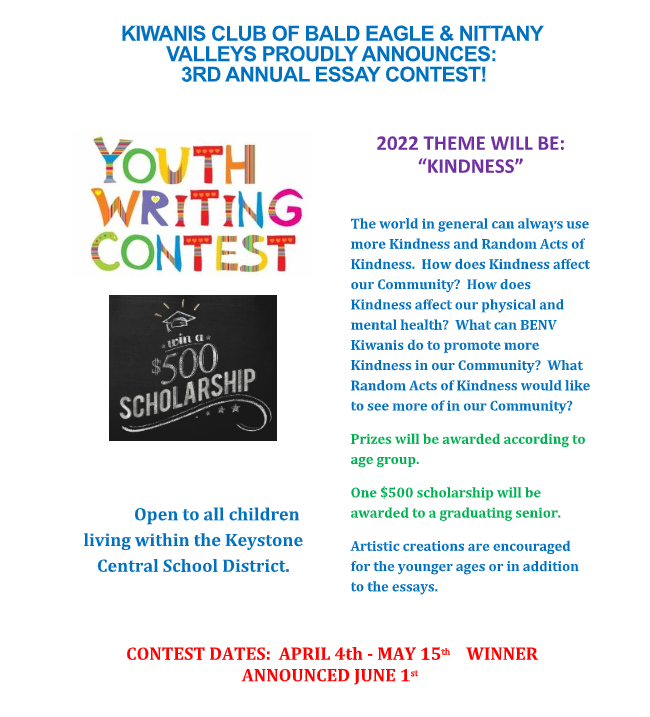 Below, you can find details on Essay Contests from previous years and even read the entries we received! We intend to archive entries from future years here as well, so please check back in the future if you are interested!
Details/Prompt from 2021's Year's Contest:
We wanted to know how the children in our community have personally been affected by COVID-19 so that we can do our part to help them; what better way to find out than to ask them? We are kicking off our second annual Essay Contest with this year's theme being "Recovery, Reflection, & Anticipation." Prompt Question: "How has the COVID-19 pandemic changed the way you value your family, friends, or just life in general?" "What are you looking forward to most as we move toward recovery?" "How can Kiwanis help the kids in our community recover quickly and thrive?" (Artistic creations are encouraged for younger contestants or in addition to the essays.)
Entries: